Ausschließlich mit Katzen von Anita Kelsey getestet.
Ich habe großes Glück, dass ich jeden Tag mit Katzen arbeite! Alle Arten von Rassen, Temperamenten, Alter und Größe! Das ist natürlich perfekt, um verschiedene Katzenprodukte für Katzenproduktfirmen auszuprobieren.
So traff Ich die wunderbare Katzenspielzeugfirma 4cats und fand mehr über sie raus.
Mir wurde eine große Auswahl von Baldrian Katzenspielzeugen geschickt, um es mit meinen Fellnasen  Kunden auszuprobieren, dies war wirklich aufregend für mich . Alle Formen und Größen von Katzenspielzeug hatte ich bekommen. Diese waren alle mit Baldrian gefüllt und es gab einiges! Von Spiegeleiern zu großen fetten Wurst geformten Baldrian Spielrollen.
Aber als erstes fragt Ihr euch bestimmt was Baldrian ist?
Baldrian (Valeriana officinalis) hat winzige, süß riechende Blüten, die in Trauben wachsen und es hat gezackte Blätter. Aber es sind nicht die Blüten oder die Blätter, die Katzen aufregen. Es ist die Wurzel! Wie Katzenminze schickt die riechende Baldrian-wurzel Katzen in eine euphorische Raserei. Und wie Katzenminze weiß niemand genau warum! Weitere Informationen findet Ihr hier. (in Englisch)
Wie Katzenminze ist auch Baldrian sicher für Katzen, obwohl sie aus menschlicher Sicht eher stinkt. Denkt an den Geruch von alten Socken: -) … Aber unsere Katzen lieben den Geruch, da müssen unsere Nasen es wohl einfach ignorieren!
Ich teste die Spielzeuge immer noch bei meinen Katzenpflege und Katzenverhaltensberatungen, aber die bisherigen Ergebnisse waren hervorragend! Alle Katzen gaben den Spielzeugen ein "high five"mit Ihren Pfoten! 😉
Mehr könnt Ihr in den YouTube Videos sehen:
Aus menschlicher Sicht sind die Spielzeuge sehr gut gemacht, bunt, lustig und einfach zu verstauen. Der einzige Nachteil ist, dass Baldrian etwas stinkig ist, aber das kann leicht überwunden werden! Hör auf es zu riechen und gib es deinen Katzen, anstelle es selbst zu riechen 😉
From a cat's point of view. The toys are easy to batt, toss, lick, kick and rub on. They come in different textures and are fun, simple, safe toys to leave around the home. The smell of the Valerian seems to last longer than catnip too which is great value for money. Like Catnip, it gives a little high for your cat to kick back and let their fur down.
Aus der Sicht einer Katze? Die Spielzeuge sind leicht zu schlagen, zu werfen, zu lecken, zu treten und sich daran zu reiben. Sie kommen in verschiedenen Texturen und sind ein lustiges, einfaches und sicheres Spielzeug, dass man auch nicht die ganze Zeit beaufsichtigen muss. Der Geruch von Baldrian scheint auch länger als Katzenminze sich in Spielzeugen zu halten, was ein gutes Preis-Leistungs-Verhältnis ist. Wie Katzenminze gibt es denn Katzen einen euphorischen Moment, was Ihnen hilft sich etwas zu entspannen. 😉
Nicht alle Katzen reagieren auf Baldrian oder Katzenminze, aber die meisten reagieren auf eines von den beiden umd somit sind es tolle Spielzeuge für Weihnachten.
Ich mag besonders die Premium Spielrolle, welche bei meinen Katzenpflege Kunden mit einigen der größeren Rassen sehr praktisch war; Maine Coons, Norwegische-Wald-Katze und Sibirier-Katzen. Wie du auf dem Foto unten sehen kannst, mag jede Katze eine lustige Kick-Session und es ist toll, dass das Kicken nicht auf unseren Armen, Händen oder Füßen statt-findet.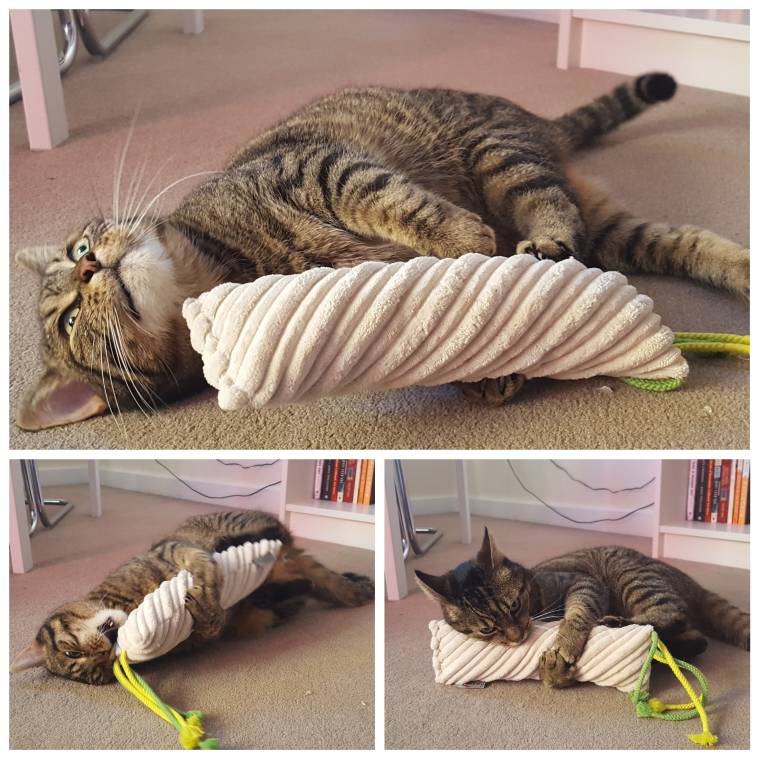 Also, an die Firma 4cats gebe ich 5 von 5 Sternen! Tolles Produkt, vor allem jetzt wo Weihnachten vor der Tür steht. Kaufen es Leute!!!
Für weitere Informationen besuchen Sie die Website unter: https://www.4cats.de
---
ÜBER DIE AUTORIN
Anita Kelsey holds a first class honours degree in Feline Behaviour and Psychology (work based BA Hons) and runs a vet referral service dedicated strictly to the diagnosis and treatment of behaviour problems in cats. She is also a qualified cat groomer and specialises in grooming aggressive or phobic cats. Anita writes for Your Cat Magazine and is on their experts panel answering readers questions on cat grooming. She also advises on feline behaviour for the CFBA (Canine and Feline Behaviour) magazine as well as being a full member. Anita, a strong advocate of a vegan lifestyle, is based in Notting Hill, London but consults all over the UK as well as international requests. She lives with her husband, a music producer, and two Norwegian Forest cats, Kiki and Zaza.
Anita Kelsey hat einen erstklassigen Abschluss in Katzenverhalten und Katzenpsychologie (arbeitsbasierter BA Hons) und leitet einen Tierarzt-Referenzdienst, der sich ausschließlich der Diagnose und Behandlung von Verhaltensproblemen bei Katzen widmet. Sie ist auch eine qualifizierte Katzenpflegerin und spezialisiert sich auf die Pflege aggressiver oder phobischer Katzen. Anita schreibt für das englische "Your Cat" Magazin und beantwortet Fragen von Lesern zur Katzenpflege. Sie berät auch Katzenverhalten für das englische CFBA-Magazin ("Canine and Feline Behavior") und ist ein Vollwertiges Mitglied der CFBA. Anita, eine starke Verfechterin eines Veganer Lebensstils, hat ihren Sitz in Notting Hill, London, berät jedoch überall in Großbritannien sowie internationale Anfragen. Sie wohnt dort mit ihrem Ehemann, einem Musikproduzenten, und zwei norwegischen Waldkatzen, Kiki und Zaza.
Ihr Debüt Buch, Bild links, wird von John Blake veröffentlicht und heißt Claws, Confessions Of A Cat Groomer.
Erhältlich bei Amazon und in allen guten Buchhandlungen.  Klickt hier für eine signierte Etsy-Autor-Kopie mit einer persönlichen Nachricht.